Another dream of mine is to have a games room packed with all my favourite arcade games. Oh man it would be so darn cool! After long hours of dirty office politics, balik rumah balas dendam tembak puluhan bad guys in Time Crisis! Tak pun kalau tak tahan tadi Proton Wira Lancer Ralli Art Rays Engineering potong macam haram, balik rumah layan Daytona USA potong 40 kereta at beginners course! Muahahah! Ok ok..if I have all the money in the world and just got back from Haj, donated millions to build masjids and zakat, game arcade apa yang aku nak beli untuk sumbat dalam games room tu?Hmm
Ok here goes..When I shit money, these are the 9 Arcade games/consoles to be installed in my games room.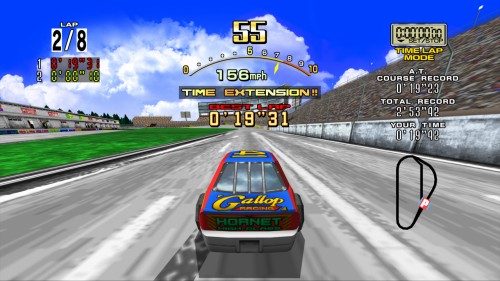 http://download.gamezone.com/uploads/image/data/869897/daytonausaxbox_256800.png
Ooh.. I'll get 4 of those and I'll make sure it will be a family thang! Lepas salam-salam minta ampun Aidilfitri, 4 beranak layan dulu amateur course, baru balik kampung ziarah kubur sedara mara. "Daytonaaaaaaaaaaaaaa! Let's go Awaaaaaay!" Enter any arcade game centre..you'll sure hear that theme..
http://4.bp.blogspot.com/_uNcsAzpsM1A/S9rJ4nWxFPI/AAAAAAAAAY0/HM5GjleI-J8/s320/1680_time-crisis-2-deluxe_std.jpg
I would not be bothered whether it's Time Crisis 1,2,3 or 4, as long as it's TIME CRISIS! Ooh ooh instead of 'osom' dengan Izza on siapa nak tukar diaper Anas, siapa mati dulu dalam TIME CRISIS, dia kena tukar! Muahaha!
This game was popular during my school days and I suck badly in this. Anyway, nice to have for the memories..I'll buy 2 of this and use it as Umayr and Anas's tabung.
http://media.giantbomb.com/uploads/0/2986/800719-t_1226g_3__sega_saturn_screenshot_3_x_men_vs__street_fighter_doukonban_jpn.jpg
CAPCOM's STREET FIGHTER VS XMEN
In 1998-99, I used to 'invest' a lot in this game. Thanks to the school being so close to Sungei Wang. Oh boy, tension-tension, bayangkan orang yang dibenci tu Akuma dengan Magneto, bagi Ryu's 'abugit' dua das, switch to Wolverine, slash muka bagi ranap, triple hit combo, switch balik to Ryu, 'uppercut' tiga das, bye bye…
http://pspmedia.ign.com/psp/image/article/649/649758/initial-d-street-stage-20050909105113221_640w.jpg
Honestly, I have yet to spend my ringgits into this machine but the graphic looks cool. Nice to have as a trophy in a small little glass case.
http://blog.retrogamer.net/wp-content/uploads/2008/04/outrunners.jpg
This game is funny. I used to play this a lot..Alpha Angle, Sogo, Sungei Wang.. Tengok driver terlompat-lompat keluar daripada seat would help to ease tension. A must have!
http://media.nerdblerp.com/uploaded/2010/08/1281645762_R360.jpg
Flight Simulator
I forgot the name of the game, it's a fighter jet simulator , something like Sega's R360…ah! What the heck, no harm in having the R360 at home! Electric bill mungkin naik sikit but pedulikan!
http://www.gamejudgment.com/wp-content/uploads/2010/09/canongamestreetfighter28092010.png
CAPCOM's STREET FIGHTER II
I was introduced to Street Fighter II (SF) by those stupid SF sticker book. Beli sticker,tampal dalam buku, bila penuh, dapatlah Sega 16 Bit. Paling susah nak dapat sticket 'Vega'. Bangang. Kalau aku simpan duit tu dulu, tak payah aku ambil PTPTN. From that sticker book, I advanced to the actual arcade game at GAMA, a game shop in Seri Gombak fasa 1. 20 cents per game. Pergi sekolah rendah, jadi Guile buat 'sabit boom' (sonic boom). Good memories..
http://arcadeplanetinfo.files.wordpress.com/2009/06/dancedancerevolution-x-cabinet.jpg
KONAMI DANCE DANCE REVOLUTION
Well, since we're stinking rich, mesti banyak makan and this game would help us sweat and keep our body in-shape. A duet with Izza would be nice..Gambate!